Battle Apparel is a feature from Golden Axe: Beast Rider that allows the player to choose the armor used by Tyris Flare.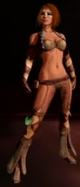 Axirian Plainsrider
Description
A lightweight warrior garb, more for training and ceremony than actual battle.
How to unlock
Available from the start of the game.
Diyar Tracker
Description
This leathery armor is suitable for guerilla strikes among Diyar's craggy cliffs.
How to unlock
Complete the Diyar Highlands level.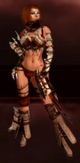 Wastelands Scout
Description
Those who choose to cross the Wastelands must travel light; breathable armor is ideal.
How to unlock
Finish Secondborn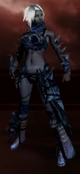 Undead Scout
Description
The undead realm projects a supernatural reflection of the living self.
How to unlock
Finish Queen of the Dead
Fiend's Path Battle Armor
Description
Extra protection for Tyris's most important assets.
How to unlock
Finish The Last Titan

?????
Description
???
How to unlock
Complete the game.

Community content is available under
CC-BY-SA
unless otherwise noted.