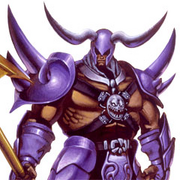 Damned Hellstrike (ダムド=ヘルストライク Damudo=Herusutoraiku) is the main antagonist of Golden Axe III. Hellstrike is the the Prince of Darkness. His appearance, much like Dark Guld, is a near replica of Death Adder, appearing to also be a giant. However, nothing is known about his origin.
Golden Axe III Edit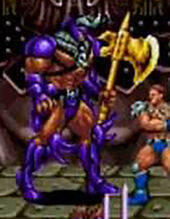 Hellstrike obtains the Golden Axe from Gilius after the dwarf lost it in a ship wreck. He uses the axe's power to overrun much of the East Land, ruling from his castle, the Gate of Fate. Among his many crimes, Hellstrike is responsible for the destruction of Kain Grinder's tribe and formerly imprisoning Proud Cragger. He is likewise responsible for Chronos' existence, as his dark magic created the pantherman.
To ensure his reign, Hellstrike cursed the four main heroes, placing them under demonic possession. Gilius is able to release only one or two of them (who then become the playable characters); the others are fought throughout the game, and released from the curse after they are defeated.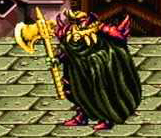 When the heroes arrive at the Gate of Fate and defeat Eve, they discover that Eve is, in fact, the king under possession. Just as the king tells them the princess is inside the castle, Hellstrike kills the king with a lightning attack. The heroes enter, eventually defeating Hellstrike in battle. If, however, the player did not defeat Hellstrike on their last continue, Hellstrike will appear outside the castle for a second battle, after which he will finally be defeated. With Hellstrike's death, his castle crumbles to the ground.