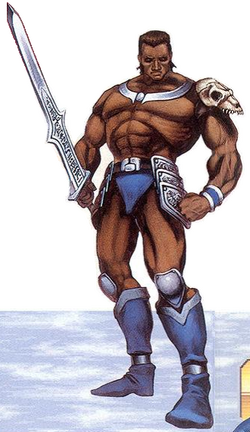 Kain Grinder (カイン・グリンダー Kain Gurindā) is one of the playable characters in Golden Axe III, a tall mercenary who took up arms in the war against Damned Hellstrike. He wears armour plates over his shoulders, knees and chest. His weapon of choice is his battle sword which he can swing swiftly and powerfully thanks to his superior strength.
Kain has only appeared in Golden Axe III and bears a striking resemblance to Ax Battler, one of the original trio who fought to retrieve the Golden Axe in the previous Golden Axe games. Due to the similarity, he is mistakenly called Ax Battler in the Sega Genesis Collection port of the game.
Prior To Golden Axe III
Edit
During Damned Hellstrike's rise to power, Kain's tribe was torn apart by the demon armies and many of his close friends were killed. Kain heard of a call to arms from a legendary dwarf Gilius Thunderhead and seeked to aid him and retrieve the Golden Axe. Kain's true motive, however, was revenge against the demon army and Damned Hellstrike.
Golden Axe III
Edit
Kain is one of the warriors cursed by Damned Hellstrike. When his curse lifts, he fights through legions of the demon army and is one of the warriors to confront and defeat Damned Hellstrike.
Kain is the balanced character of the Golden Axe III roster. He is able to attack swiftly and with enough power to cause serious damage. With his broadsword in hand, he boasts excellent attack range and priority. Being a balanced character, Kain possesses no apparent weakness.
Kain Grinder controls the element of water and can command tidal waves and even a large aquatic serpent on the battlefield.
Community content is available under
CC-BY-SA
unless otherwise noted.